Bedroom
Bedrooms hold clothing, accessories, bedroom furniture, toys, and often, other items that don't fit anywhere else. With all of this stuff, how do you keep it organized? The tips in this section can help you organize your bedrooms and keep them that way.
You'll find some great ideas to help you de-clutter the bedroom, keep your closet space usable, and organize linens. There are also some tips about organizing kids' rooms and how use the space under your bed for storage.
Tips, Tricks, and Answers
The following articles are available for the 'Bedroom' topic. Click the article''s title (shown in bold) to see the associated article.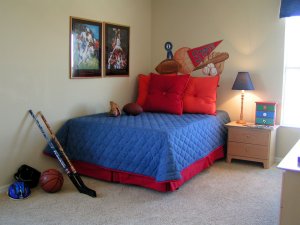 Bedroom Spring Cleaning
Is your bedroom so bad that you feel that you are avoiding it? Spring cleaning is a great way to reclaim your sanctuary. The ideas in this tip will help you get clean and organized before you realize it.
Bedroom Storage Ideas
It can be difficult to find enough room for everything that you need to store in your bedroom. Even though there might not be a lot of space, you can find room for your things with some careful organization.
De-cluttering the Bedroom
Does your bedroom keep getting full of junk, no matter how many times you clean it? Or is this a once-in-awhile problem? Don't worry! I have some suggestions for you.
Declutter Your Bedroom
Has your bedroom exploded with stuff, leaving behind a cluttered mess? The ideas in this tip will help you handle the problem without a lot of time, energy, or money.
Making Your Clothes Closet Usable
Creating a usable clothes closet does not only maximize your limited living space but will provide breathing room for your clothes. Make the best use of your clothes space by re-arranging your closet.
Organizing a Child's Room
Organizing a child's room doesn't have to cost a lot in money or time. Here are a few things to think about as you organize your child's room.
Organizing Books By the Bed
Having your favorite books by your bed can make it much easier to find some well-deserved relaxation time. Bedtime reading is a lot more pleasant when your books are easy to find.
Organizing Your Dresser
Often one of the most overlooked aspects of keeping your bedroom looking good is to have a nicely organized dresser. While there is no magic formula for being able to live an organized life, there are some simple guidelines. Here are the guidelines that anyone can apply to their life.
Shoe Storage Ideas
If you have many pairs of shoes in your home, you may be unsure of how to keep these shoes stored and organized in the best possible way. You can try bins, shelves, racks, and other methods to quickly and easily create the perfect place for your footwear.
Space-Saving Bedroom Storage Ideas
More than any room in your home, your bedroom is supposed to be a safe haven. It is the place you lay your head down at the end of a busy day and wake up in the next morning. Having a bedroom with space-saving storage can be achieved with clever effective room designs.
Storing Items under Your Bed
Our bedrooms are supposed to be a place that we can relax from the world, but unfortunately that isn't always the case. With a little organizational work, and storing items under your bed, you can again have your sanctuary.
Ways to Better Organize Your Linens
Linen closets are typically high among the areas of the home that need the most organizational help. Here is a strategy guide for you to use the next time you attempt to organize your linens.