Closets
Closets are a great place to put things that you aren't sure what to do with or to quickly stash things before company arrives. But out of sight, out of mind isn't always the best motto if you want to keep your home organized.
The tips in this section can help you take your closets and transform them into functional spaces for storage.
Whether you are looking for the best closet system or need some fresh organizing ideas, you'll find some great tips in this section. There is information about installing a modular storage system, designing your own closets, and basic organization strategies.
Tips, Tricks, and Answers
The following articles are available for the 'Closets' topic. Click the article''s title (shown in bold) to see the associated article.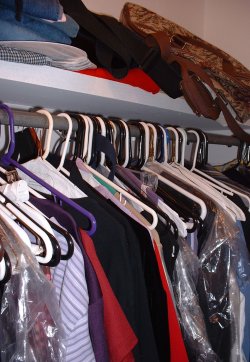 Better Organize Your Closet Space
Closets are one of those things in the home that constantly needs help in organizing. Here is the best way to have as much possible space, while still maintaining a wonderful organizational theme.
Closet Organization
A closet can be a pleasant place or an unpleasant place, and which it is largely depends on how organized you keep it. Try some of these hints so you can become more organized and love your closet a little more.
Closet Organization Systems
Closet organization systems don't necessarily need to be some formal piece of equipment—though those can indeed help. Rather, closet organization systems should be a mindset, a method or "system" if you will, that you use to help organize one of the most chaos prone parts of the home, the closet.
Closet Organizers
Just about everyone has some kind of a closet around their home or office. Whether you call it a closet or a cupboard, it needs to be well organized to find whatever is stored inside or on top of your closet. Before you start planning, you need to keep the following in mind.
Closet Organizing Ideas
Searching for items in a closet should be a no brainer yet with an unorganized closet you may need a towel and end up with a table linen. Keeping your stuff visible and available can keep you from pulling out your hair.
Closet Shelving
If there is one part of the home or office that never seems to go far enough, then it has to be the closet. One of the best ways to increase the space in your closet is by adding some shelves. Here are some helpful ideas about utilizing closet shelving to its fullest.
Designing Your Own Closets
A common dream for homeowners is to have their very own custom closets. While it would be wonderful to be able to hire out a professional to design your very own custom closet system, that aspect alone can cost an arm and a leg to get a professional designer. Instead, why not save that money and design your own? Here's how.
Do Your Clothes Need Organizing?
Closets can very quickly become a chaotic nightmare. The reason for this is due to the nature of clothes. In order to organize your closet your are going to need to first organize your clothes. Here is a real simple method that you can use to be able to store your clothes, free up some much needed closet space and keep your clothes in better condition longer.
Installing a Modular Storage System
If you have a large closet then chances are you know just how difficult it can be to get it organized. One of the ways that you can organize your closet is by installing a modular storage system. While there are many different kinds of storage systems out there, there are some general guidelines that you can use when installing one.
Organize Clothes Storage in Your Closet
Closets in your home need organizing just as much as anything else in the world. Here are a few proven options for you to use in organizing your closet, not to mention being able to increase the available space of your closet.
Organizing a Walk-In
You have this beautiful walk-in closet, but you can't find anything. Needing new ideas on how to organize the closet? Hear are some great tips and ideas on managing all the space.
Organizing Linen Closets
Are you tired of opening your linen closet doors only to find that you can't find what you are looking for or, even worse, reaching for that queen size flat sheet only to find out it is only a double size? Then it is probably time to organize your linen closet. It is one of the easiest closets to get organized.
Organizing Storage Closets
Storage closets are a great and wonderful thing, when they are actually organized. When they are not though, they can be a horrendous nightmare. Organizing storage closets is actually a really easy task, if you know what to do.
Organizing Your Wardrobe
Maintaining an organized system for your wardrobe can make life simpler when making decisions on what to wear. Fighting sensations of frustration when you look into a closet stuffed with clothes but feeling you have nothing to wear can be avoided by organizing your wardrobe.