Living Room
The living room got its name because most people spend a lot of time "living" in this area. Because of the nature of this room, organizing its contents can be tricky.
The tips in this section will give you some ideas to help organize DVDs, CDs, and entertainment centers. You'll also read about some ways to organize your remotes—all of them—so they are easy to locate.
Tips, Tricks, and Answers
The following articles are available for the 'Living Room' topic. Click the article''s title (shown in bold) to see the associated article.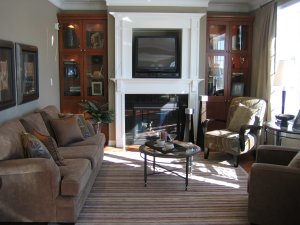 Game Storage Ideas
Sometimes board games can get overwhelming if you have a lot of them. It can really help if you store and organize them in a way that make them easy to access and put away.
Organizing a Music Library
Organizing a music library is dependent on your personal style. Do you enjoy organizing your music online or do you prefer lining your bookshelves with music books, sheet music, or CDs? Whatever your preference there is a way to organize your music.
Organizing an At Home Gym
Whether you are wanting to get into shape, or would like to stay in shape, one of the easiest ways that you can do that is by organizing an at home gym. Having a gym in your home doesn't need to be big or elaborate. Rather, all you need to do is have a little bit of extra space, and a few specialized items.
Organizing Books and Magazines in the Living Room
The living room is one of the busiest rooms in the entire home, and as such can very quickly become a collection point for chaos. If you happen to love reading, then you know just how much books and magazines can add to this chaotic mess. Luckily, organizing books and magazines in the living room can be both stylish and easy. That is, if you follow these simple guidelines.
Organizing CDs
If you don't take some time to organize your CDs, you can easily find yourself wasting time. You can waste time through trying to find the compact disc that you want, or possibly waste money through purchasing another copy of a CD that you already own. Follow these simple guidelines, and you can know exactly what you have when you need to know it.
Organizing DVDs
Compared to the old videocassette, DVDs don't take up a whole lot of space. That being said though, it's all relative. While they may not take up a lot of space compared to VHS tapes, they do take up some space. Here are some fantastic methods for you to organize your DVD collection.
Organizing Entertainment Centers
Have you ever noticed how easy it is for an entertainment center to become a disorganized mess? When this happens, it can be virtually impossible to find a particular movie, remote, game, or item that you may be looking for. Here are a few simple guidelines that you can use to help when organizing entertainment centers.
Organizing Television Remote Controls
Organizing your remotes does not have to be a difficult task. With today's technology and great décor items, having remotes readily available can be easier than you may think.
Organizing Video Games
One of the major problems presented by video games is that they can easily begin to take over your living room or family room. Organizing video games is a necessity if you are going to have an orderly home. Luckily, it isn't that difficult. All you need to do is follow these simple instructions, and you will have no problem organizing your video games.
Organizing Your Movies
Movies provide endless hours of intrigue, romance, or action drama entertainment. You have the ability to view repeatedly your favorite actors performing their talents on your own television screen at home. Organizing your movies can make your leisure time more relaxing.
Organizing Your Remote Controls
Let's face it—if you have electronics in the home, then remote controls are a simple fact of life. Instead of letting your living room be taken over by these electronic gizmos, try using a little organization instead. Here's how.